25 Stories for 25 Years
28.06.2017 / by Rainbow Trout Ranch
Good morning Rainbow Trout Ranch Family!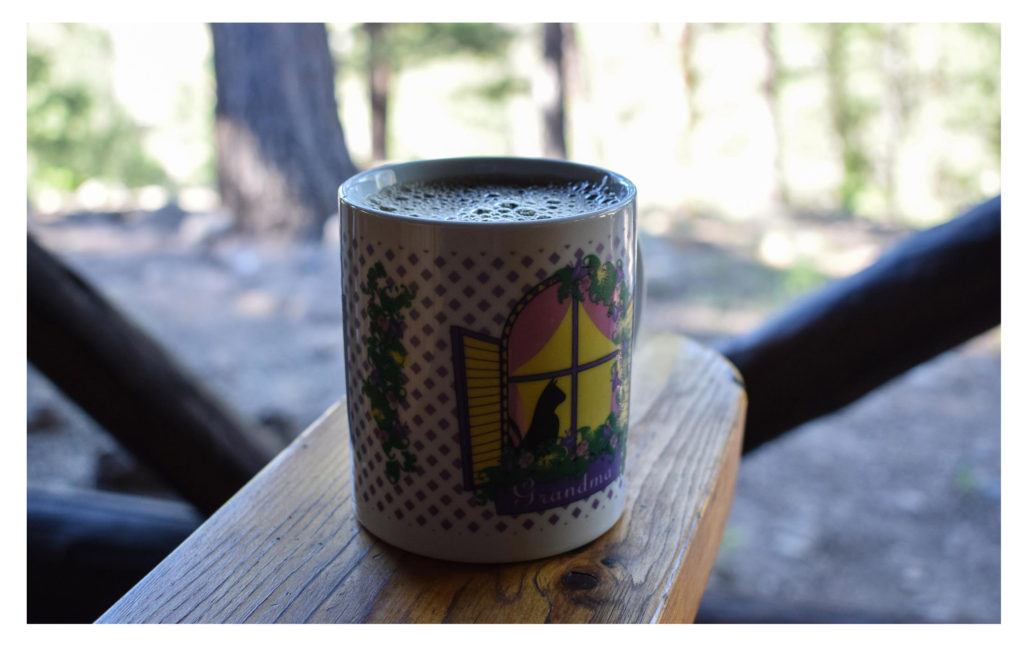 I'm sitting near the fireplace in our lodge library and hoping that the warmth from the flames will ward away this early morning chill. Resting on the table in front of me is just one of many assorted coffee mugs used by the Rainbow Trout Ranch staff. It's an eclectic collection made up of thrift store finds and silly Christmas-in-July gag gifts. Some are relatively normal looking, while others are tacky or just plain weird. Mine is filled to the brim with good ol'fashioned cowboy coffee. I watch the steam rise from the surface and listen to the swallows chirping in their nests outside.
This particular mug is white with an 80's style purple diamond pattern. Front and center on the mug is an illustration of a rounded yellow window with pink curtains and flowers. A black cat sits just above the window box and stares vaguely off to the right. The word "Grandma" is printed underneath. There is a small chip on the rim and the inside is starting to get that permanent brown stain from the many thousands of cups of coffee that the ranch staff have drunk, sipped or left to cool and forgotten. I would never pick it out in a store and yet, it is absolutely my favorite coffee mug. It reminds me of both Halloween and crazy cat ladies at the same time.
I feel this conviction that any day I can have my morning coffee in the grandma mug, I am destined to have an excellent day. Sure, there are prettier mugs out there with fancy glazing, clever words, or intricate designs, but there is something irreplaceable about the Grandma mug.
This mug may come across as irrelevant to you and yet it is the very first thing that caught my attention as I walked into the staff dining room after living the "cramped up city life, stuck like a duck in a pen," for two years. The Grandma mug embodies so many things that I love about the Rainbow Trout Ranch. Just like the ranch, the mug is one of a kind and it's comforting to reminisce about how it has served its purpose perfectly for anyone seeking the comfort and reassurance of a good cup o' joe. I always experience the same sense of ease whenever I am here.
This year, 2017, we are celebrating our 25th consecutive year of operation as a family owned and operated dude ranch in Colorado. It's an incredible feeling to look back over the years and remember the countless rides, stories, jokes and irreplaceable friendships this grand lodge has witnessed. I'm excited to be writing to you, our Rainbow Trout Ranch guests to request your personal stories and memories from your time spent in this "magic little part of Colorado."
I would like to extend an invitation to you to accept our challenge of gathering 25 stories in honor of these past 25 years. I know you all have a story saved away somewhere. Maybe you tell it to your friends out at dinner or perhaps you've written it down in a journal.
"Remember that time when?"
It doesn't have to be long and It doesn't need to be formal. It can be a poem, a song, a sonnet or a simple paragraph. It can be a drawing. It can be a letter. Just some ideas!
Submissions can be mailed to us at 1484 FDR 250, Antonito, CO 81120
Or emailed to me (Paula) at coltonandpaula@gmail.com
We will read and enjoy your submissions until August 30th. Of these submissions, 25 will be selected for display on our website and social media. We will also keep a master collection, available for viewing at the ranch or by request.