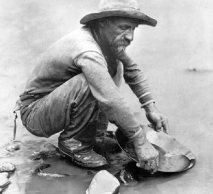 Thar's Gold in Them Thar Hills!
In the 1870s the relative tranquility of the area was shattered by the discovery of gold and silver. Miners flocked to the region and numerous small towns were quickly erected. In the mountains north of the ranch are the remains of Platoro, Jasper and Stunner. Most such towns were abandoned early in the 1900s with the demise of the local mining industry.
More lasting than the mining business was the railroad which was built between Antonito and Chama, in part to serve the miners. Thanks originally to the Denver & Rio Grande Railroad, this line still operates in the summer for sightseers, including our ranch guests.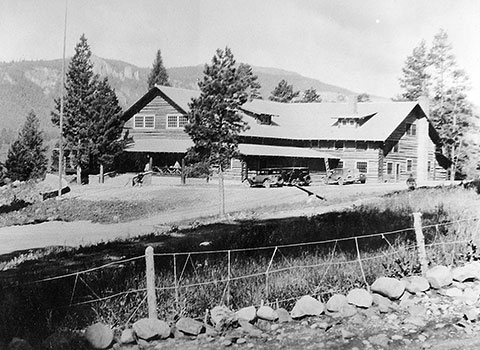 "Colorado men are we, from the peaks gigantic, from the great sierras and the plateaus, from the mine and from the gully, from the hunting trail we come, Pioneers! O Pioneers!" ~ Walt Whitman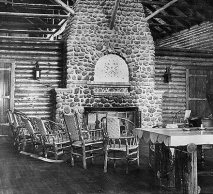 By the turn of the century, the ranch was a noted fisherman's paradise and soon a private fishing club was established for a select group of sportsmen. Cabins were built and by the mid 1920s construction began on the lodge, which was the largest log structure of the time. Built with local Engelmann spruce, it is said that not a single nail was used in the entire 18,000 square foot structure—just wooden pegs. It was truly the showplace of the Rockies, and happily remains so today.
In the late 1920s the door was opened to the public as a guest ranch with extraordinary fishing. As time went by it developed a fine reputation for providing unexcelled family vacations. We are very proud of that tradition and are dedicated to its continuation.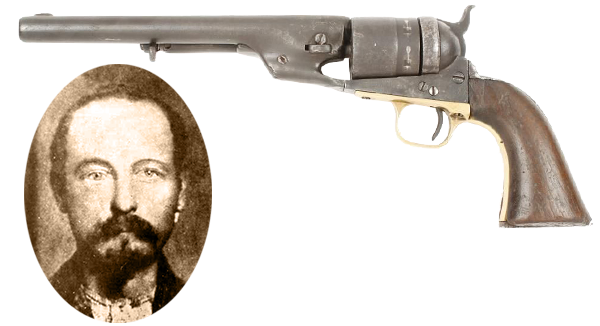 Cole Younger Colt Revolver Model 1860 Army, Richards Conv., .44 Centerfire
One of the leaders of the James-Younger Gang. They committed numerous bank and train robberies throughout the west. Cole and his brothers were finally caught at a failed bank robbery in Northfield , Minnesota in 1876.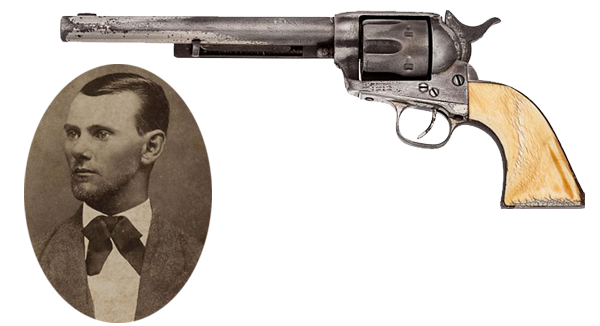 Jesse James Colt .45
A Confederate guerrilla during the Civil War he was accused of participating in atrocities against Union soldiers, including the Centralia Massacre. After the war, as a member of various gangs of outlaws, he robbed banks, stagecoaches, and trains. Despite popular portrayals of James as an embodiment of Robin Hood, robbing from the rich and giving to the poor, there is no evidence that he and his gang shared their loot.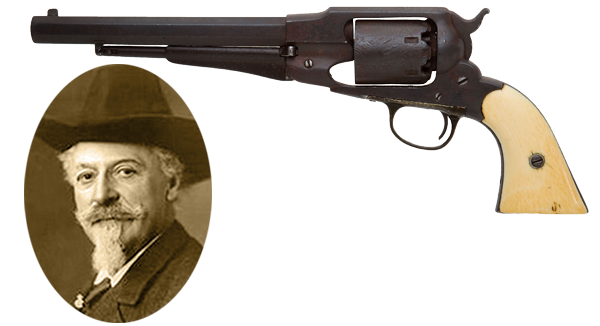 Buffalo Bill Cody Remington New Model Army .44
William Frederick "Buffalo Bill" Cody was an American scout, bison hunter, and showman. One of the most colorful figures of the American Old West, he started performing in shows that displayed cowboy themes and episodes from the frontier and Indian Wars. He founded his Buffalo Bill's Wild West in 1883, taking his large company on tours throughout the U.S. and later in Europe.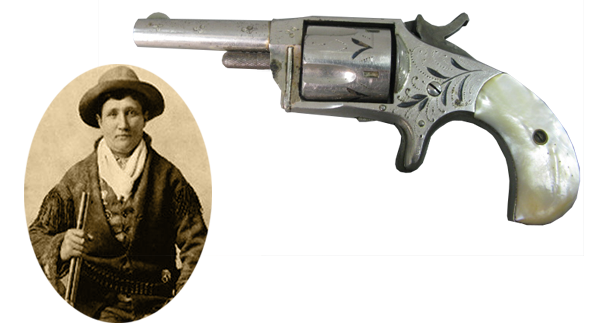 Calamity Jane Hopkins & Allen Ranger No.2 pistol
Martha Jane Canary or Cannary, better known as Calamity Jane, was an American frontierswoman and professional scout, known for her claim of being an acquaintance of Wild Bill Hickok, and fighting for Indians. Late in her life, she appeared in Buffalo Bill's Wild West Show, and at the 1901 Pan-American Exposition.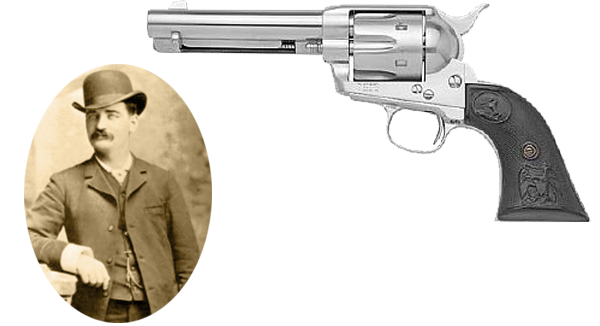 Bat Masterson Custom Colt .45 SAA
Bat Masterson and Wyatt Earp were two of the more famous lawmen who patrolled the mean streets of Dodge City, breaking up fights and curtailing violence by disarming and arresting the drunk, rowdy and contentious revelers that flocked to the saloons, brothels and gambling tables. The two later joined forces again in Tombstone, Arizona.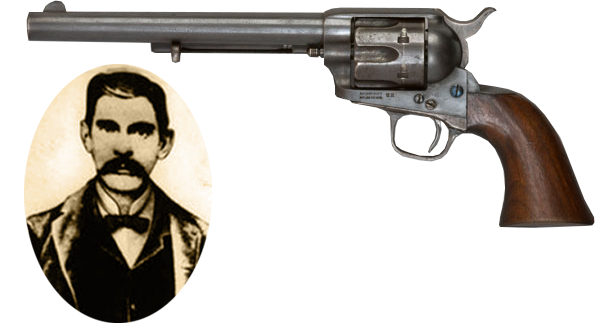 Doc Holliday Colt .45 SAA
John Henry 'Doc' Holliday earned a DDS degree in dentistry before he became a renowned gambler and gunfighter. He moved to the southwest when he was diagnosed with tuberculosis at age 15, which is where he took up gambling and acquired a reputation as a deadly gunman. Friends with Wyatt Earp he was part of the famous shootout at the O.K. Corral in Tombstone, Arizona.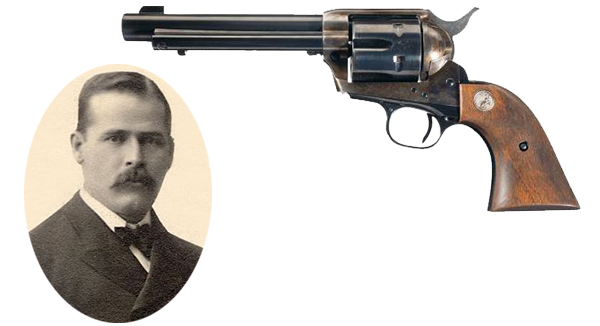 The Sundance Kid Colt .45 SAA
Also known as Harry Alonzo Longabaugh, he was an outlaw and member of Butch Cassidy's Wild Bunch Gang, which was known for the longest strings of successful train and bank robberies in history. He got his moniker when he was caught and convicted for horse thievery in Sundance, Wyoming.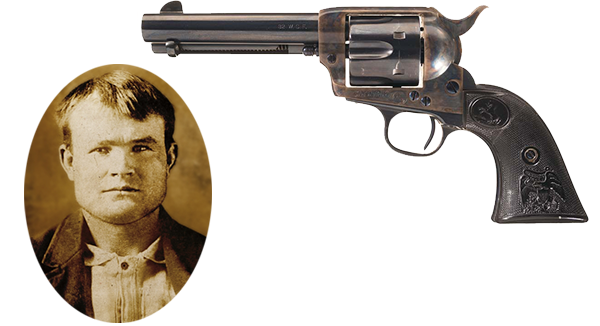 Butch Cassidy Colt .45 SAA
Born Robert Leroy Parker, Butch Cassidy was the leader of the Wild Bunch Gang who became notorious for robbing trains and banks in the American West. His last name, Cassidy, was a tribute to his friend and mentor Mike Cassidy who taught him how to shoot.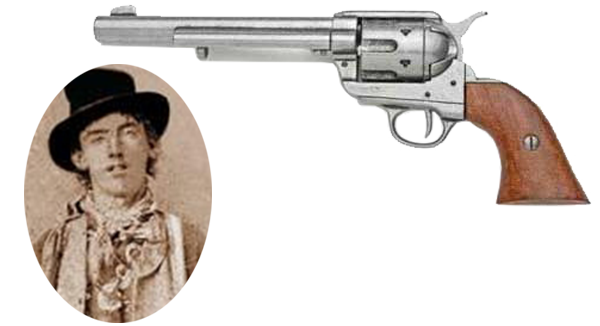 Billy the Kid Colt .45
Henry McCarty, better known as Billy the Kid, and also as William H. Bonney, was a 19th-century gunman who became a frontier outlaw in the American Old West. According to legend, he killed twenty-one men, but it is now generally believed that he killed eight. He killed his first man on August 17, 1877.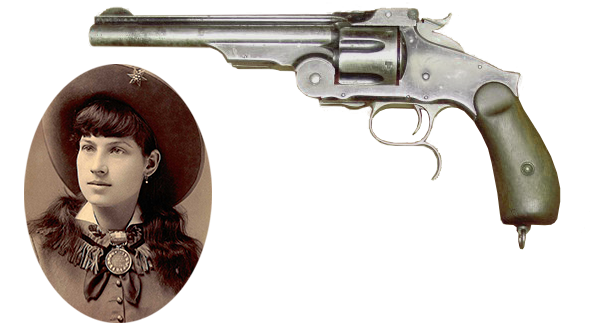 Annie Oakley Smith & Wesson No.3
Annie Oakley used many different firearms and powders during her career. There is not one firearm that Oakley used exclusively. It appears that she actually used or at least tried out almost every model gun manufactured. Certainly she had favorites but with her sharpshooting skills she was a sure shot with just about any.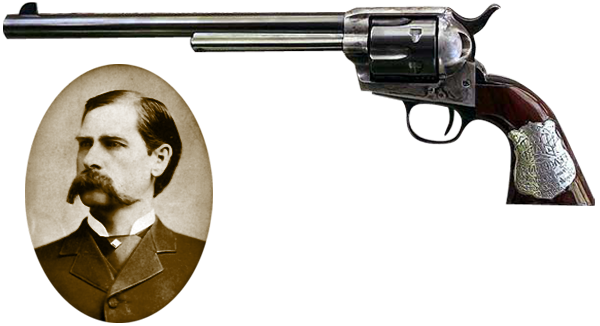 Wyatt Earp Colt .45
In April of 2014, Wyatt Earp's Colt .45, known to be the one used in the infamous gunfight at the OK Corral, Tombstone, Arizona was auctioned off to the highest bidder for a paltry sum of $225,000.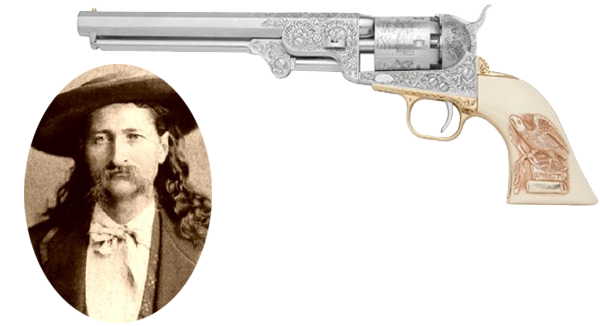 Wild Bill Hickok Smith & Wesson Model No. 2 Pistol
The famous wild west frontier scout, lawman, marksman and professional gambler was shot in the back while playing poker in Deadwood, Dakota Territory (now South Dakota) by an unsuccessful gambler by the name of Jack McCall. Ever since that fateful and historic day, a two pair poker hand consisting of the black aces and eights has been referred to as "The Dead Man's Hand".