This is Me: Max
By Max Vaaler on April 6th, 2018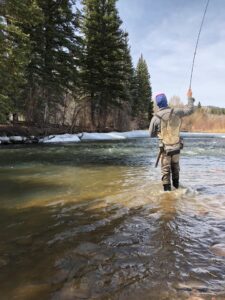 Name: Max Vaaler
Hometown: St. Louis, MO
Education: University of Missouri, 2017; Business Management
Job on the Ranch: Fly Fishing Guide/Maintenance
Years with RTR: 2018 will be my 5th year
Favorite Horse: The Dude
Most Memorable Moment: I think my most memorable moment was the moment that I got a glimpse of the Conejos River from the road on my first trip out to the ranch. My obsession with fishing, according to my parents, began at my 2nd birthday party when I got a snoopy kids fishing pole and promptly left my own party and just casted into the kiddy pool out back for the rest of the day. I began fly fishing a few years after that and immediately became obsessed with everything about it. Reading all sorts of articles and books about fly fishing growing up meant lots of pictures and dreams about the American West. I had never been out west before I started working at RTR so seeing the mountains for the first time and the beautiful Conejos River right along highway 17 was a lifelong dream come true. I had always wanted to live right on a trout stream and be able to fish every day and once I arrived at the ranch I knew that I finally could do that.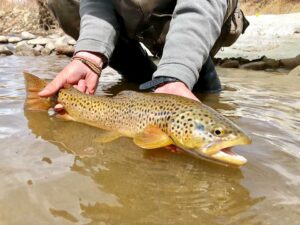 Favorite Dance: The Limbo… I'm not the 18 year old kid I was back when I started though, so I may be retiring from that dance soon…
Favorite Meal: Monday night ribs are WITHOUT A DOUBT my favorite meal. Monday nights are just one of my favorite nights of the week, period. After our casting lesson, I can go and fish for an hour or so while smelling the ribs being cooked. Then after eating more ribs and potato salad then I should, I can go back out and fish the evening hatch until dark. In 4 seasons at the ranch I've rarely ever missed a Monday night meal and have not once tried the chicken, that's how much I love those ribs…
Winter Work: I've spent this winter working at the local fly shop here in St. Louis, T. Hargrove Fly Fishing which has been a great experience!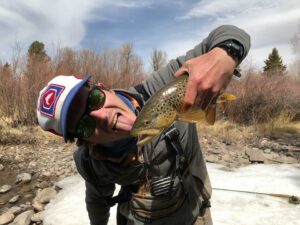 What are you looking forward to the most this summer: The fishing. That was an easy one. Actually one thing I'm really looking forward to this summer is the fall. I love summers at the Ranch don't get me wrong, but I've spent 4 summers there and only 1 fall. The fall is a whole different atmosphere and the weather is amazing, so yeah that's something I'm definitely excited to experience again.