Welcome to Your Wild West Home on the Range
Imagine you could simply turn back the hands of time and transport yourself back to an era of living spontaneously and at one with the land, all the while exploring new frontiers with nary a care in the world. Well, now you can. Welcome to America's Ultimate 5-Star Family Dude Ranch – your new home on the range! Welcome to Rainbow Trout Ranch.
Deep in the heart of the old Wild West, where legends the likes of none other than Butch Cassidy and the Sundance Kid whiled away the hours and roamed the rugged backcountry scheming out their next great daring capers, Rainbow Trout Ranch offers up an exhilarating and memorable riding adventure of a lifetime.
As you wind your way through our magically timeless old west trails, some have even shared that if you listen very closely, you can still yet hear the banter and ballyhoo of a bygone generation of adventurers making their way on through to the lands of dreams and promise.
Come Live the Camaraderie of a Family Dude Ranch Vacation
Rainbow Trout Ranch is the perfect Colorado dude ranch vacation for adults, families, singles, couples, groups and anyone else who wants a family ranch vacation. Offering exceptional Colorado horseback riding, superb Colorado fly fishing, awesome children's programs and a fun teen ranch program in Colorado, trapshooting, swimming, day trips to Taos, whitewater rafting and the chance to ride America's highest and longest narrow-gauge steam train, the dude ranch brings timeless simpler pleasures to life in a spectacular setting.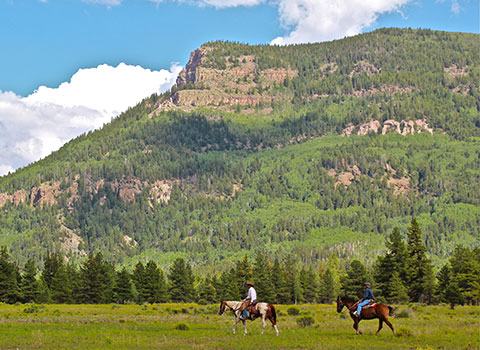 To be sung to 'Home on the Range'. O, give me a ranch where every branch of our family and friends come to meet. Where Linda and Doug will give you a hug, and all of their staff – they will greet. Chorus: Home, home far away, Where the wranglers and the horses do play. We've had some good runs, and acquired some sore buns, and know we will be back someday!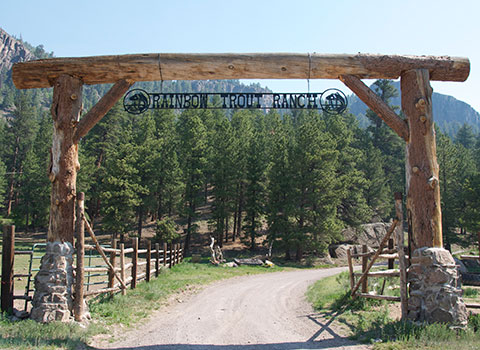 Why take a Rainbow Trout Ranch vacation? It is more than just great horses, awesome fishing and spectacular scenery. It is more than great meals and programs and more even than watching your family reconnect and revitalize. It is about the feelings you experience throughout the week, but especially as you leave. It is the feeling that comes with making good friends with other guests and amongst the exceptional staff. It is about mile-wide smiles and teary goodbyes. In the end, a guest ranch vacation is all about the memories. And your RTR memories will truly last a lifetime.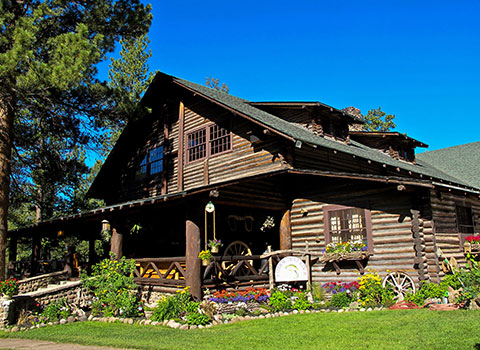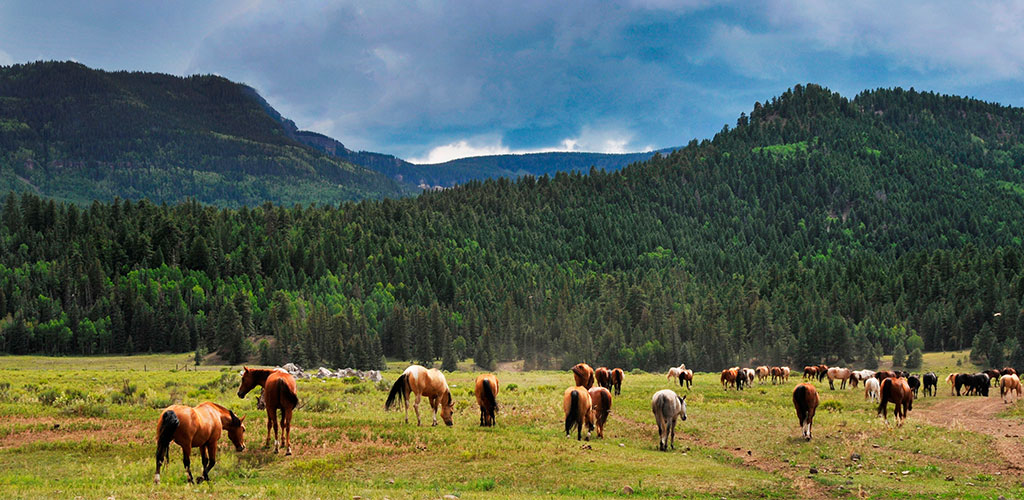 We raise horses ourselves as well as being competitive team-ropers; therefore we take our riding program very seriously, with plenty of fun thrown in. You will have a wonderful horse of your own, well matched to your ability and you will soon become close friends. You will delight in the atmosphere of our magnificent lodge and your own aspen-log cabin. A historic ranch, we are within easy access of Alamosa, Albuquerque, Durango, Colorado Springs or Denver.
There is something for everyone here at the ranch and guests of every age have a great time. Even those reluctant teens end up begging their parents to come back! Here at Rainbow Trout Ranch you are not a customer but a cherished guest, welcomed into this magic corner of Colorado we call our own.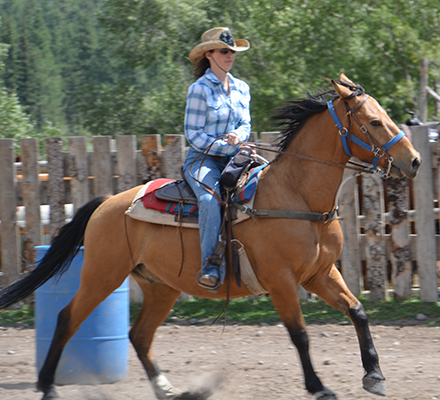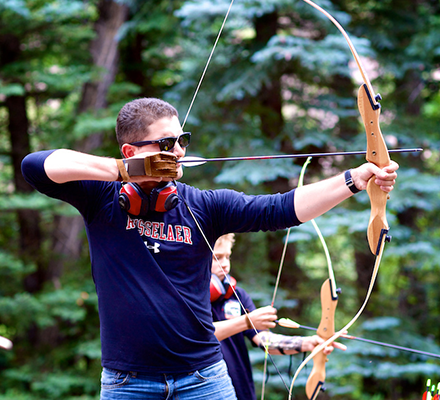 The Old West is not a certain place in a certain time, it's a state of mind. It's whatever you want it to be.
Famous Western Gunslingers and Their Revolvers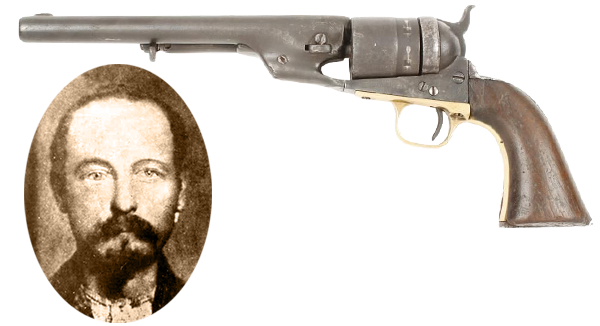 Cole Younger Colt Revolver Model 1860 Army, Richards Conv., .44 Centerfire
One of the leaders of the James-Younger Gang. They committed numerous bank and train robberies throughout the west. Cole and his brothers were finally caught at a failed bank robbery in Northfield , Minnesota in 1876.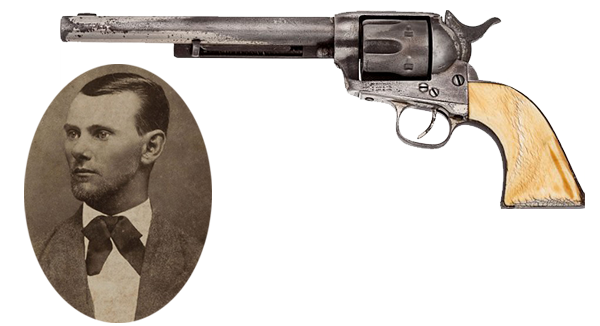 Jesse James Colt .45
A Confederate guerrilla during the Civil War he was accused of participating in atrocities against Union soldiers, including the Centralia Massacre. After the war, as a member of various gangs of outlaws, he robbed banks, stagecoaches, and trains. Despite popular portrayals of James as an embodiment of Robin Hood, robbing from the rich and giving to the poor, there is no evidence that he and his gang shared their loot.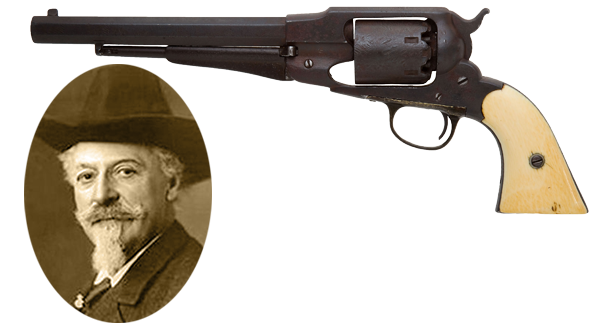 Buffalo Bill Cody Remington New Model Army .44
William Frederick "Buffalo Bill" Cody was an American scout, bison hunter, and showman. One of the most colorful figures of the American Old West, he started performing in shows that displayed cowboy themes and episodes from the frontier and Indian Wars. He founded his Buffalo Bill's Wild West in 1883, taking his large company on tours throughout the U.S. and later in Europe.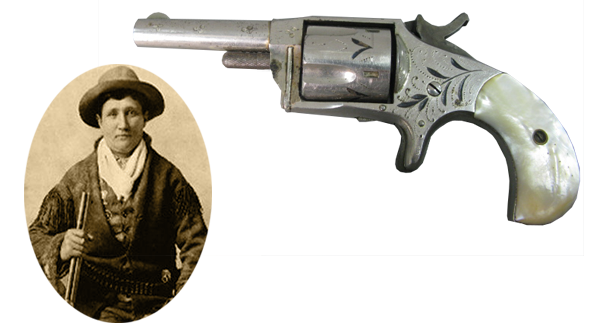 Calamity Jane Hopkins & Allen Ranger No.2 pistol
Martha Jane Canary or Cannary, better known as Calamity Jane, was an American frontierswoman and professional scout, known for her claim of being an acquaintance of Wild Bill Hickok, and fighting for Indians. Late in her life, she appeared in Buffalo Bill's Wild West Show, and at the 1901 Pan-American Exposition.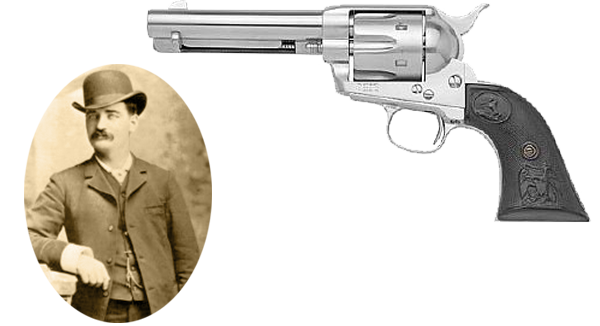 Bat Masterson Custom Colt .45 SAA
Bat Masterson and Wyatt Earp were two of the more famous lawmen who patrolled the mean streets of Dodge City, breaking up fights and curtailing violence by disarming and arresting the drunk, rowdy and contentious revelers that flocked to the saloons, brothels and gambling tables. The two later joined forces again in Tombstone, Arizona.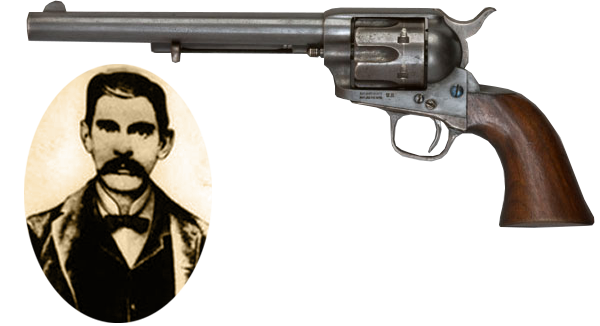 Doc Holliday Colt .45 SAA
John Henry 'Doc' Holliday earned a DDS degree in dentistry before he became a renowned gambler and gunfighter. He moved to the southwest when he was diagnosed with tuberculosis at age 15, which is where he took up gambling and acquired a reputation as a deadly gunman. Friends with Wyatt Earp he was part of the famous shootout at the O.K. Corral in Tombstone, Arizona.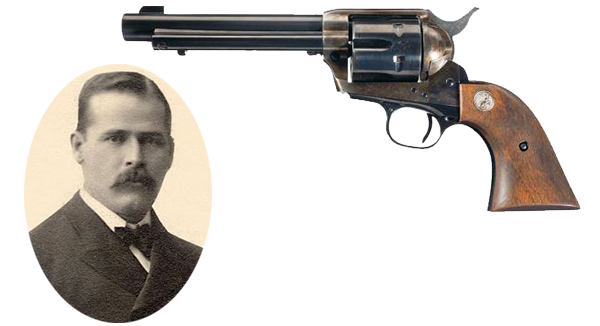 The Sundance Kid Colt .45 SAA
Also known as Harry Alonzo Longabaugh, he was an outlaw and member of Butch Cassidy's Wild Bunch Gang, which was known for the longest strings of successful train and bank robberies in history. He got his moniker when he was caught and convicted for horse thievery in Sundance, Wyoming.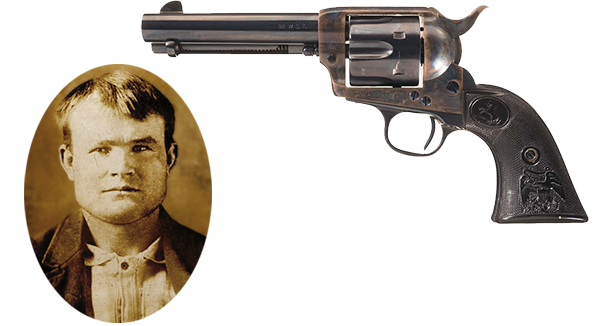 Butch Cassidy Colt .45 SAA
Born Robert Leroy Parker, Butch Cassidy was the leader of the Wild Bunch Gang who became notorious for robbing trains and banks in the American West. His last name, Cassidy, was a tribute to his friend and mentor Mike Cassidy who taught him how to shoot.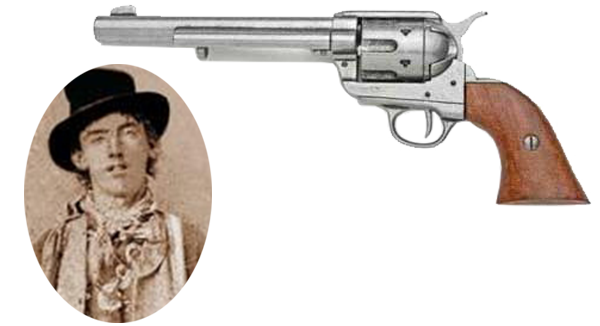 Billy the Kid Colt .45
Henry McCarty, better known as Billy the Kid, and also as William H. Bonney, was a 19th-century gunman who became a frontier outlaw in the American Old West. According to legend, he killed twenty-one men, but it is now generally believed that he killed eight. He killed his first man on August 17, 1877.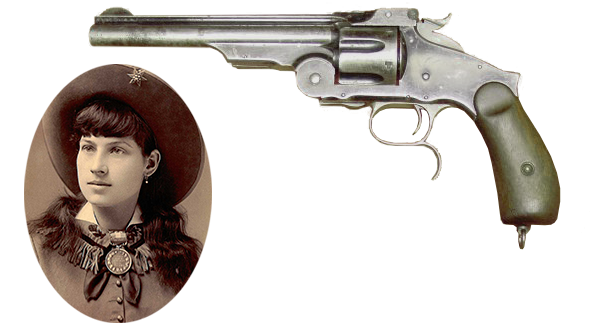 Annie Oakley Smith & Wesson No.3
Annie Oakley used many different firearms and powders during her career. There is not one firearm that Oakley used exclusively. It appears that she actually used or at least tried out almost every model gun manufactured. Certainly she had favorites but with her sharpshooting skills she was a sure shot with just about any.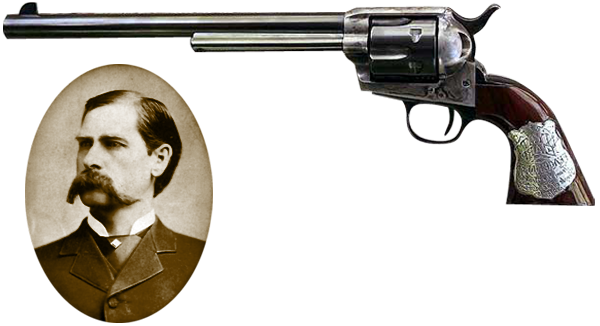 Wyatt Earp Colt .45
In April of 2014, Wyatt Earp's Colt .45, known to be the one used in the infamous gunfight at the OK Corral, Tombstone, Arizona was auctioned off to the highest bidder for a paltry sum of $225,000.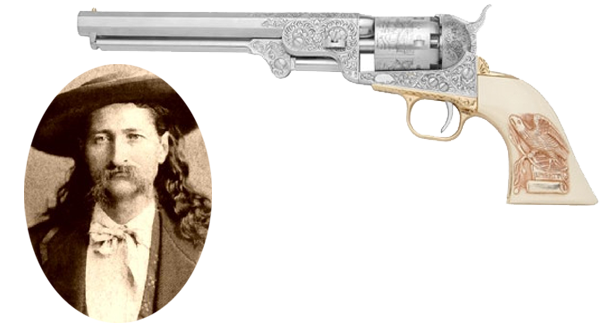 Wild Bill Hickok Smith & Wesson Model No. 2 Pistol
The famous wild west frontier scout, lawman, marksman and professional gambler was shot in the back while playing poker in Deadwood, Dakota Territory (now South Dakota) by an unsuccessful gambler by the name of Jack McCall. Ever since that fateful and historic day, a two pair poker hand consisting of the black aces and eights has been referred to as "The Dead Man's Hand".