Rockin' Rodeo Saturdays
Saturday is the last full day and it begins with family rides, although often the children prefer to ride with their newfound friends and spurn the idea of riding with their parents. The afternoon is the ranch rodeo, complete with "grand" entry and the national anthem, often sung by guests, or a combination of guests, or guests and staff, but if necessary by Jane. David commentates with his usual humor, and Jane is in the arena to keep an eye on things while first the Buckaroos (led by the Counselor), then the Cowpokes, teens and finally the adults each try their hand at the barrels and then the poles. It is certainly not forced but most enjoy having a go at it. They are given the opportunity to practice earlier in the week, often combined with the team-penning, but many of them go cold-turkey which works fine too. We stress horsemanship rather than speed, and it is a cheerful time with everyone rooting for each other and laughing, taking photos and loudly encouraging the arena activity. Doug hitches up the handsome team of Percherons to his historic wagon and does a few turns and exhibitions in the arena, usually with a guest driver or two and a load of happy children. There are usually some staff clowns, and we do a "pony express" race between the wranglers which is fast and furious and fun for the guests to watch. After the race, the wranglers line up and we thank the guest crowd for a great week and tip our hats to them which ends the rodeo. Often we team rope afterwards which is a fun spectacle.
Saturday night truly brings the whole week together. Doug cooks steaks down at the picnic grounds and by this time everyone is truly close, and family with one another. They mix and match and laugh and have fun together, and six days later, that same group that met the Sunday before have a totally different dynamic when they sit down for sing-along later that night in the lodge. They sing "Home on the Range" and "Don't Fence Me In" and "Red River Valley" together, and they cry and laugh when their kids sing the songs they learned on their hayride, especially when they sing their very own lines in "The Old Chisholm Trail" led by Doug.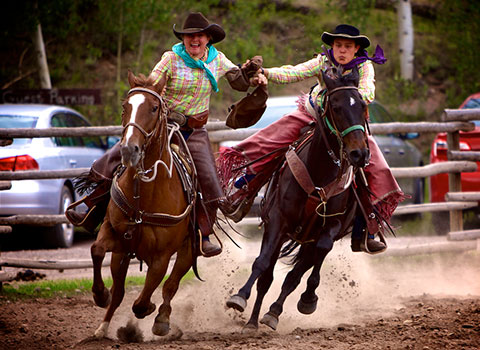 Then the counselors each hand out awards to "their" kids and teens, and David hands out awards to "the big kids"—there is lots of laughing and hand clapping and teasing that accompanies this. And it doesn't end there because Doug invites anyone up for the "talent" part of the night and you can only imagine what might happen next. Certainly there is real talent, and we've had it all, from opera to amazing violin playing and even bagpipe playing and cowboy poetry and skits and songs and gorgeous dancing. But we've also had some that make you want to giggle or hide or cringe, but mostly laugh together. And it is all in good fun and we all clap and cheer. And the staff join in—and often it is a mix of guests and staff. Or teens, or guests. It is just good old plain fun. And there's the staff song of course. And the night ends with Jane's ranch song, and a few words from Doug culminating with "Thank you for coming—and in the words of Will Rogers, 'Goodbye, Good Luck and May the Good Lord take a Likin' to Ya'."