Who Said You Ought Not to Live in the Past
America is steeped in history and our home sweet home is no exception. Located at 9,000 feet altitude in the spectacular Conejos River Valley of the southern Colorado Rockies, Rainbow Trout Ranch is surrounded by the Rio Grande National Forest and bordered by the San Juan Wilderness. Our spectacular views and countryside are untouched by civilization, so we assure your riding adventures here will gift an unspoiled view of our nation's one of a kind, enchanting southwest backcountry.
And if you're looking for culture, we've got you covered! Several Native American tribes, including the Ute and Cheyenne, have called this wilderness territory home for centuries. The famous Taos Pueblo adobe dwellings are also nearby and a must-see. The Spanish settled here in the 1600s and you'll see their influence in local place names (including our very own Conejos River), and even better, in much of the local cuisine!
By the late 19th century, gold and silver were discovered in these parts, which brought fame, fortune and our all-American Wild West reputation to life. For a genuine day trip "step back in time", the famed Toltec & Cumbres Narrow Gauge Railroad that served the hard toiling miners of yesteryear, is still serving up memories for today as well. A ride on this immortal old iron horse will transport you back to a whole other moment in time, complete with amazing views and breathtaking new landscapes around every bend.
"The wedding of Steam and steel is one of those rare combinations of beauty and utility that have a timeless appeal to the imagination. Steam locomotives were more than machines – they were destiny on wheels."
Located at 9000 ft. in the spectacular Conejos River Valley in the southern Colorado Rockies we are surrounded by the Rio Grande National Forest and bordered by the San Juan Wilderness giving us endless and varied country to explore and enjoy. Our proximity to northern New Mexico means you can combine the splendor of the Rockies with the enchantment of the southwest—many guests spend a night or two in fascinating Santa Fe on their way to or from the ranch.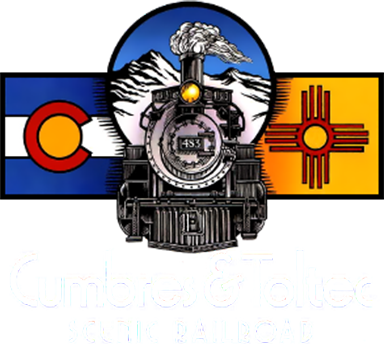 Cumbres & Toltec Scenic Narrow Gauge Railroad
Our guests have a unique opportunity to ride "America's Longest and Highest Narrow Gauge." The Cumbres & Toltec Scenic Railroad runs between Antonito, CO and Chama, NM, and the ranch is about midway between these two towns. To quote their brochure, "A special journey into yesterday, this enchanting narrow gauge steam railroad is an exciting and marvelous adventure, meandering 64 miles in the awesome peaks and valleys of the scenic Rockies, through tunnels, gorges and breathtaking trestles." We can make arrangements for you to ride this historic railroad upon your arrival at the ranch.
To find more information visit their website at www.cumbrestoltec.com.