A Rainbow Trout Ranch vacation will not only help you reconnect with family and build memories for a lifetime, it will gift you even more – a chance to grow exciting new friendships through the time-honored tradition of simply spending quality time together.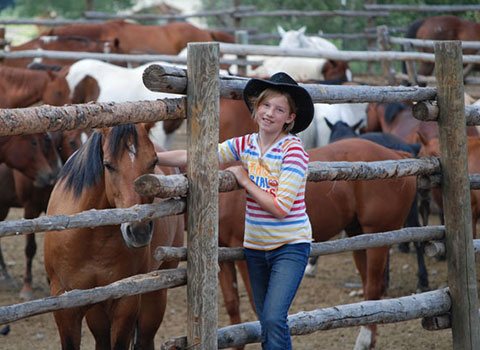 Time at our guest ranch brings a renewed fellowship to families. Stepping out of your comfort zone makes you rely on one another in unique ways. Conquering a challenging horseback ride together for example, demonstrates both leadership and dependability in a tangible way that your kids will fondly remember. And you'll be happily surprised by your children's determination as well. Your family dynamic will evolve here, in ways you'll carry into your adventurous new futures forever.
It's not just your relationships that will reap the benefits. Rainbow Trout Ranch is a great place to rejuvenate. Many of us are so preoccupied with "life" that we fall out of tune with nature and our physical selves. The fresh air and sunshine here will invigorate you; our outdoor activities will allow you to thrill in the satisfaction of a hard day's work. Your body will thank you. Not only that, by the end of a full day, our guests tell us that food never tasted so good, and many say they enjoyed the best sleeps of their lives!
We take our hospitality down home serious here. It's not quite enough for us to offer breathtaking scenery, fun activities and five-star service, although that's a solid start. At RTR we truly enjoy bringing spirits to life, establishing life-long relationships and helping you create memories you'll treasure for a lifetime. And every week, as we watch our guests tearfully say good-bye to newfound friends, we know we've succeeded. The best part of all? There's always next year!
Times were never tougher than in the trailblazing days of the old Wild West, where the only way to make it through was to rely on the tenacity of family, the kindness of strangers and the camaraderie of friends. Through your weeklong stay at our ranch, we have very little doubt you will quickly become fast friends with many of the other fine family folks who come to RTR to unplug from it all. You'll be in the company of wonderful new dude ranch adventure seekers just like yourself, and just as our forefathers had each others' backs, you'll quickly see how fellow guests will not only cheer you on as you hone new skills, but be there to clink glasses with you at the end of the day as well.
"

These are the things I love about Rainbow Trout Ranch. I love riding. Jane always picks a good horse for me. I love fishing in the Conejos River. I love swimming in the pool. I love the line dancing, square dancing, hayrides and riding the Belgian Horses. It is my favorite week all year. I can't wait to return this August.

"
~ Sarah Deitch, age 9
Woodbury, New York