Planning for Your Ranch Vacation
Since nights can get down around 40°, you will need jeans, sweaters, sweat shirts, and a light to medium weight jacket. On the other extreme, days will normally be between 75° – 85° so don't forget your swimsuits, short-sleeved shirts, shorts and tennis shoes. You might like to know that we have a "fancy dinner" for adults during the week. Casual dress is fine, but if you'd like to show off some of your fancy Western clothes, you are more than welcome to do so. If you are planning on hiking, please bring good hiking boots as tennis shoes aren't ideal for steeper trails. We don't let the rain stop our activities!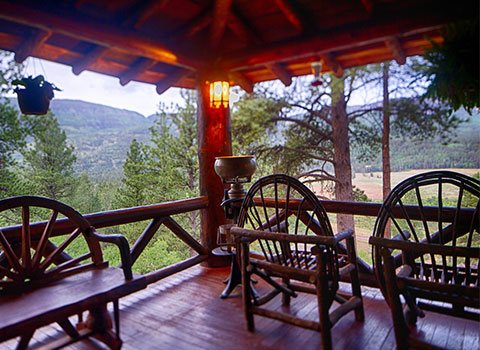 Other items that will be useful: sunscreen, cowboy hat or baseball cap, chapstick and a canteen or water bottle. We stock these and other basic items such as candy bars, pop, t-shirts and a supply of fishing equipment.
Our lodge, dining room, and cabins are designated as nonsmoking. We only allow smoking on the porches where ashtrays are provided.
Those who plan to ride should bring slip on boots. Please note that we do have a "boot box" at the ranch and you are welcome to borrow a pair should you find a good fit. You may also want to bring long sleeved shirts for bushwhacking rides, tall socks to prevent chaffing and some people do bring chaps although they are not necessary. Many people do some riding or take lessons before coming to the ranch – this is a benefit but certainly not a must as we do provide excellent instruction.
Rainbow Trout Ranch Weather
For September or shorter stays: plan to arrive before lunch if you would like to ride in the afternoon, or any time in the afternoon on the day of arrival and check out by 9:30 am on the day of departure. Please do not hesitate to call or email us anytime should you have any questions or just want to learn more about us. All the planning will be worth it once you arrive at the Rainbow Trout Ranch!
Rainbow Trout Ranch Weather
| Month | Average Temperature |
| --- | --- |
| May | 30°-72° F (-1° to 22° C) |
| June | 35°-75° F (2° to 24° C) |
| July | 45°-80° F (7° to 27° C) |
| August | 40°-80° F (4° to 27° C) |
| September | 30°-75° F (-1° to 24° C) |