Proven Pedigree & Performance
Although the Colorado guest ranch keeps them busy most of the time, David and Jane still find time to raise their own Quarter Horses and team-rope. They stand Shiners Zan Parr at stud. He is a beautiful 2001 cremello Quarter Horse stallion. Although primarily for breeding, they rope on him and use him for trail riding as well. They own a small band of mares and each summer have plenty of foals for guests to enjoy.
"The cowboy don't need no iron hoss, but covers his country on one that eats grass and wears hair." ~ Charles M. Russell
They raise and sell quality horses with plenty of color and great dispositions. They are well bred, trail savvy and just good ridin' horses. Most are started roping depending on age and ability. All are exposed to a variety of weather, trail conditions, arenas, trailer loadings, strange horses and more. David starts and trains horses, during the winter months and we both finish them in the summer. Please call for details on horses they may have for sale.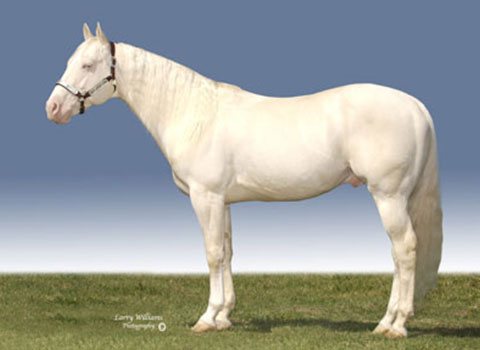 The study of equine genetics has advanced significantly in the past few years and the cremello, once spurned in the Quarter Horse industry, is ever increasing in popularity. Shiners Zan Parr is a double dilute cremello which means that he will not sire any sorrels, chestnuts, bays, blacks or smokey blacks regardless of mare color. Based on his genetic profile, one can predict the color of his offspring–for example, a sorrel mare will have a palomino foal when bred to him; a bay mare will have a buckskin–although dependent on mare genetics there is a slim chance of a palomino–and so on. And on top of that, he is beautifully bred, hence their promise of "Quality AND Color." The ranch raises several foals every year and has a good number of their own horses in the herd now, many of which have become guest favorites.
Since their house is part of an indoor arena, David is able to ride and work horses even in the deepest of winters and at night so they get plenty of riding. They specialize in roping and trail education and have a unique situation to work horses with both indoor and outdoor arenas. And of course endless mountain trails which present countless situations and opportunities for training, including rivers, streams, climbing, thick forests, plains, and more.
They lost their exceptional stallion Docs Golden Matador in fall of 2004 although they do have several different age groups of his progeny. After some intensive searching and study, David found a young cremello stallion, bred in Montana but located in Arizona, with superb breeding, conformation, and genetic makeup. For those of you unfamiliar with cremellos, think Silver of the Lone Ranger. In fact, their daughter Caroline loves the Lone Ranger and it was she who nicknamed our new stallion "Silver."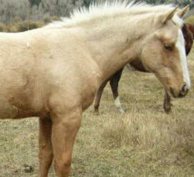 The American Quarter Horse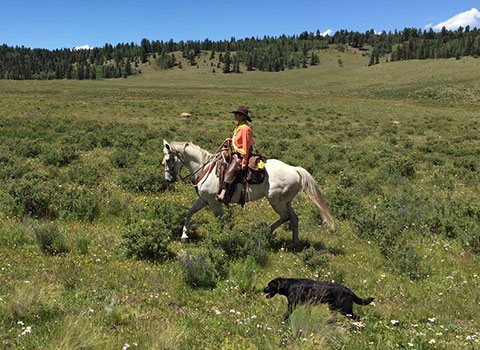 Just what is an American Quarter Horse? If you have ever seen a horse in one of rodeo's timed events, been along for work on a ranch or watched a Western on the big or small screen, 9 times out of 10 you have witnessed an American Quarter Horse.
These heavily muscled, compact horses could run a short distance over a straightaway faster than any other horse, and the fastest were called Celebrated American Quarter Running Horses by English colonists in the 1600s. In 1940 a registry was formed to preserve the breed which officially became the American Quarter Horse.
There are 16 recognized colors of American Quarter Horses including the most prominent color of sorrel (brownish red). The others are bay, black, brown, buckskin, chestnut, dun, red dun, gray, grullo, palomino, red roan, blue roan, bay roan, perlino and cremello. However, American Quarter Horses are allowed only limited white markings on the face and legs.
It's interesting to note that the quarter-mile is still the most popular distance for racing American Quarter Horses, and the best blaze the 440 yards in 21 seconds or less.
RTR Team Roping
David and Jane and some of the RTR wranglers rope about three evenings a week at the ranch, and also at the ranch rodeo on Saturdays. Since our arena is quite small by roping standards, we focus on practice, concentrating on our horses, horsemanship and technique. While guests do not actually participate in roping because of the danger involved, they are welcome to watch, help run the chutes or bring cattle back up the return alley. Kids really enjoy helping out with the roping cattle and we are happy to teach roping on the ground, with what is called a roping dummy. This is how everyone starts and if they are serious about it, we can help them with how to get one so they can practice at home. We can also teach them how to rope the HotHeels™ that is pulled by a four wheeler, on horseback which is the closest simulation to roping a live steer.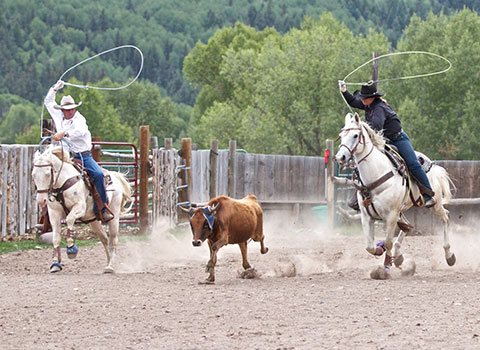 It Takes Two to Tango
Team Roping, the only true team event in rodeo, requires close cooperation and timing between two highly skilled ropers — a header and a heeler — and their horses. The event originated on ranches when cowboys needed to treat or brand large steers and the task proved too difficult for one man.
The key to success? Hard work and endless practice. Team roping partners must perfect their timing, both as a team and with their respective horses.
Similar to tie-down ropers and steer wrestlers, team ropers start from the "boxes" on each side of the chute from which the steer enters the arena. The steer gets a head start determined by the length of the arena. One end of the breakaway barrier is attached to the steer and stretched across the open end of the header's box. When the steer reaches his advantage point, the barrier is released, and the header takes off in pursuit, with the heeler trailing slightly further behind. The ropers are assessed a 10-second penalty if the header breaks the barrier before the steer completes his head start. Some rodeos use heeler barriers too.
The header ropes first and must make one of three legal catches on the steer — around both horns, around one horn and the head or around the neck. Any other catch by the header is considered illegal and the team is disqualified. After the header makes his catch, he turns the steer to the left and exposes the steer's hind legs to the heeler. The heeler then attempts to rope both hind legs. If he catches only one foot, the team is assessed a five-second penalty. After the cowboys catch the steer, the clock is stopped when there is no slack in their ropes and their horses face one another.
Another important aspect to the event is the type of horses used by the ropers. The American Quarter Horse is the most popular among all timed-event competitors, particularly team ropers. Heading horses generally are taller and heavier because they need the power to turn the steer after it is roped. Heeling horses are quick and agile, enabling them to better follow the steer and react to its moves.