A Passel Full of Fun for Everyone
For children aged three and older we offer supervision by qualified counselors and full daytime activities. All the programs are optional so that families can spend as much time together as they wish, or everyone can go their different ways. We find that the children love doing the activities with their counselors and children their own age, while parents enjoy being able to go out on longer rides or on day-trips knowing their children are safe and having the time of their lives.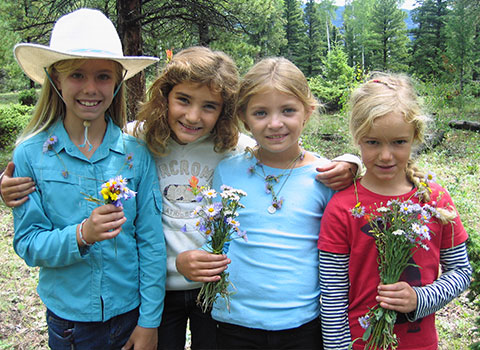 Children six and older—the "Cowpokes"—are given their own horse for the week and can go on the trails. The little "Buckaroos" (3-5 year olds) will be led on short rides around the barn and river area by the counselors. Our kid's horses are exceptional and they will meet each child's ability level and help them to improve tremendously throughout their stay here at the ranch.
Whether learning to swing a rope, singing on the hayride, doing their first barrel run or catching their first rainbow, children will love their Rainbow Trout Ranch experience.

Our children have grown up there with a strong circle of friends and we've made some of the best friends of our lives—including the Van Berkums. When Sunday rolls around and we have to go home, we all say "Only 51 weeks and we'll see you again.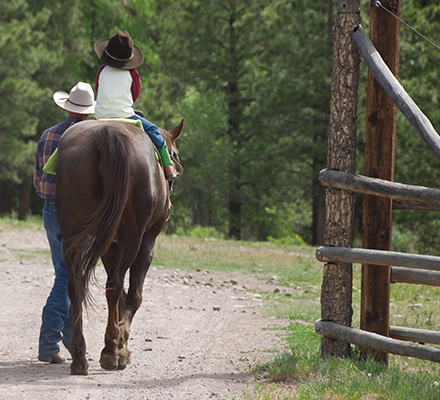 Children's activities include riding, both in the arena and on trails with plenty of expert instruction, fishing, hiking, nature study, swimming, western crafts, PB&J lunch rides and more. One of their favorite activities is a "hot-dog and s'mores" roast followed by a long hayride into the forest as evening falls on a Friday night.

These are the things I love about Rainbow Trout Ranch. I love riding. Jane always picks a good horse for me. I love fishing in the Conejos River. I love swimming in the pool. I love the line dancing, square dancing, hayrides and riding the Belgian Horses. It is my favorite week all year. I can't wait to return this August.