Wintering Horses
By Arden Foster on January 10th, 2019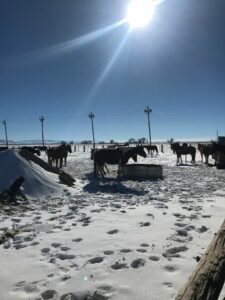 We have been enjoying the snow that's been coming in this winter. It is so crucial for our river, the local community, and the valley we call home here in southern Colorado.
Our guests who come stay with us at RTR are always curious as to how we take care of our horses in the winter. We are so lucky to have winter pasture in the fertile San Luis Valley about an hour from the ranch, where they get plenty of room to truly be horses: romping, playing, exercising their genuine herd mentality, and just being as nature intended. They are pretty lucky in the summer as well as we are able to turn out each day rather than having to keep them corralled as many ranches do, and we have the river running right through their pastures so they can get good water as opposed to only having water troughs – both are practices which really contribute to good herd
health. And as soon as our horses are finished with their season at the dude ranch, they have their shoes pulled, and then they have 6-8 months off – pretty good gig if you can get it!
On winter pasture, the horses are fed hay every day and checked for possible injuries, illnesses, or simply attendance. As long as they have enough hay, salt licks, and a good water source, they are amazingly hardy and do just fine in the cold weather. And during these winter months, they are also gathered into corrals to be treated with deworming medication as a preventative measure. It's the perfect time to snap some pictures so you can see how their winter coats have really come in to keep them warm!