Foals of 2018
By Arden Foster on May 6th, 2019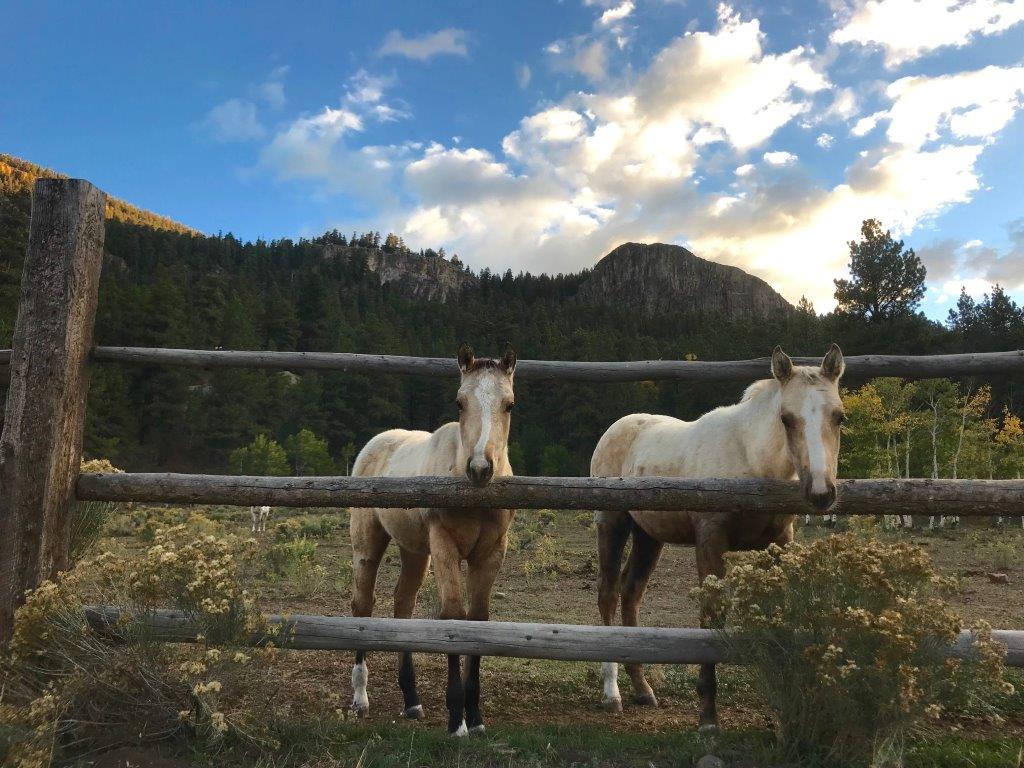 This past summer was a very exciting as we had four healthy babies born on the ranch! They stayed with their mothers until they were big and strong enough to be weaned, and then they spent the rest of the winter at the ranch while the rest of the herd went down to winter pasture. They greeted the new horses as they came in and they have been so fun to watch as they grow.
They won't be large enough to ride until they are older, but we have already taught them small basics that will help them adapt when true training starts.  David does what is called "imprinting" as soon after birth as possible.  He handles them thoroughly and rubs them all over so that they are familiar to human touch.   He doesn't touch their sides, where later on riders will bump them with their heels, or the neck where the reins will make contact for neck reining – we don't want to de-sensitize these areas.  But he will bend their ears forward like we do when bridling and un-bridling, he will stick a finger up the sides of their gums for later de-worming, and he will work with their feet and tap their hooves in preparation for trimming and shoeing later on.   He also puts a foal halter on and teaches them the very basics of leading. Being exposed to this so early, even just two or three times, carries over significantly to when they are older.
We are always so happy to have these babies around, and it can be just as exciting to name them.  Below, we've listed the foals with their name, as well as the origin or reasoning, breed, parents, and a short description of color and markings.
Prince Harry
The Suffolk Punch is a breed that originated in England, so we have named the Suffolk Punches at the ranch after the royal family. (Last year's colt was Prince William!)
Suffolk Punch
Ivy x Baxter
He is a traditionally colored Suffolk Punch, chestnut all over, with no white socks or markings, and lighter colored feet
Lettie
There was a bit of a craze over the wonderful musical The Greatest Showman, and we particularly adored the bearded lady character named Lettie
Draft cross x Quarter Horse
Big Booty Judy (Lauryn named her!)  x Silver (our ranch stallion)
She is a darker palomino with a blaze and one white sock
Watanya
Named by a guest (we did a naming contest with everyone that week – thank you Carol D.!) who chose Watanya as it means "little sure shot" in Lakota, which was the name given to Annie Oakley by Sitting Bull. It seemed appropriate since her dam's (mother) name is Annie Oakley
Draft Cross x Quarter Horse
Annie Oakley x Silver
She is a lighter palomino with a blaze, two front socks and a matching hind stocking
Lakota
We have a tradition that we always name Lariat's foals an "L" name. This filly was born just a week after Watanya, and since we had just chosen a Lakota name for her, we stuck with that theme
Quarter Horse
Lariat x Silver
She is a pretty buckskin with a blaze and one sock
We won't know for another few years if they are going to be part of our guest string, but if history tells the story, there is a high chance they will be.  Even though they are born here, they will go through the same screening process as any new horse when they are old enough. We can't wait to see them grow up!